AMERICAN PIE signed JASON BIGGS, ALYSON HANNIGAN + 3 Props, DVD, UACC COA, Frame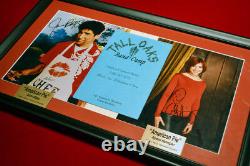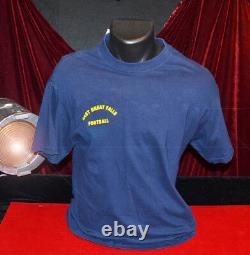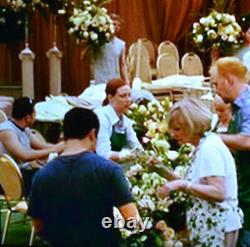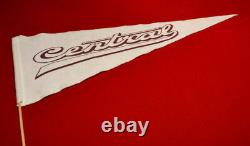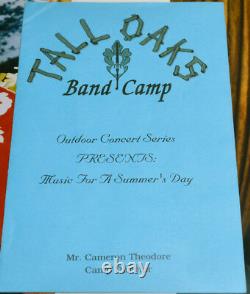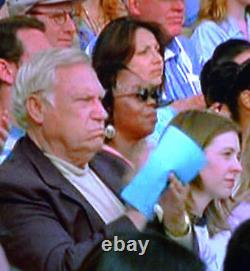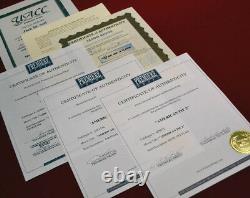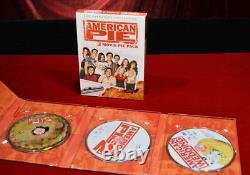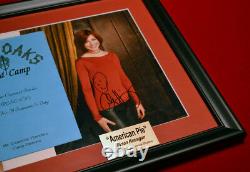 A Rare "AMERICAN PIE" Film Series AUTOGRAPHS, PROPS & COSTUME Collection. Starring JASON BIGGS, ALYSON HANNIGAN, SEANN WILLIAM SCOTT & EDDIE KAYE THOMAS. Original JASON BIGGS ("Jim") Signed & Framed 8x10 Color AUTOGRAPH Photo. Original ALYSON HANNIGAN ("Michelle") Signed & Framed 8x10 Color AUTOGRAPH Photo. A Rare screen-used "East Great Falls FOOTBALL" shirt from Stifler's TEAM (AP3).
A screen-used "CENTRAL" fan Football PENNANT (AP1). A screen-used "Tall Oaks Band Camp" PROGRAM (AP2). 5 CERTIFICATES OF AUTHENTICITY signed by Representative from UNIVERSAL PICTURES & UACC Registered Dealer #228. Sealed DVD in the case of all 3 "AMERCIAN PIE" great classic movies.
As a TV & Movie DIRECTOR and a lifetime member of the Director's Guild of America, D. Sell is offering some rare PROPS, AUTOGRAPHS & COSTUMES, ART & COLLECTIBLES from his personal collection from some great television & motion pictures, including "STAR WARS, " "RESIDENT EVIL, " APOLLO 13, " "STAR TREK, " "AMERICAN PIE, " "DIRTY DANCING, " "E.
", "AEON FLUX, " "WARM BODIES, " "CASINO ROYALE, " "bruno, " "GONE WITH THE WIND, " "CHRONICLES OF RIDDICK, " "HANNIBAL, " "BATMAN, " "WIZARD OF OZ, " "IT'S A WONDERFUL LIFE, " "SUPERMAN, " "GHOST, " "NATIONAL TREASURE, " "SKYFALL, " "SPIDER-MAN" & "PIRATES of the CARIBBEAN + dozens of other Films & Television shows, many destined to become Classics that will live on for millions of viewers for years to come... Included with this collection is this ORIGINAL 8x10 color Autographed Photo that was signed by the movie's star, JASON BIGGS... In "Amercian Pie 2" Jim goes to Michelle's Band Camp & ends up on stage playing a very strange trombone solo!
In the stands, the audience watching this funny scene are holding these blue "TALL OAKS BAND CAMP" Programs! Inside this frame is an Original Screen-used PROGRAM from the "American Pie 2" movie!
A great & fun PROP to own! This unusual 14" High x 23" Wide Frame has these original autographed pictures & prop mounted inside this new black Frame with acid-free matte.. And is just ready to hang on the wall of your Home, Office, Media Room or Museum.
Each Photo is signed by the stars in permanent marker and includes a COA (Certificate of Authenticity) for each actor and another for the PROP Program... These collectibles are also guaranteed genuine for life by UACC Registered Dealer #228. The next PROP in this collection is a screen-used "East Great Falls FOOTBALL" shirt from Stifler's football TEAM used in "American Pie 3 Wedding". This rare screen-used "East Great Falls FOOTBALL" Shirt is worn by Stifler's football players helping with the flowers at the wedding! This prop shirt is a men's size M & is screen-used, but in good condition, with all the tags & inventory number.
Finally, you receive this prop "CENTRAL" high school football PENNANT from "American Pie". These were used in the stands by the extras in the football scenes.. These PROPS were produced by Propmaster Scott Buckwald and his crew at Universal Studios in Burbank, CA..
These RARE Props were acquired from world renowned Premiere Props and includes their Certificate of Authenticity (COA) signed by a representative from UNIVERSAL PICTURES. You'll also receive a sealed DVD of all 3 "AMERICAN PIE" movies so you can enjoy these comedy classics...
This Collection is just ready to display in your Media room, Office or Museum! These props are very hard to find in the marketplace and rarely ever made available to the public. "AMERICAN PIE" Motion Picture Series.
American Pie is a series of sex comedy films. The first film in the series was released in 1999, by Universal Pictures, and became a worldwide pop culture phenomenon, cult following amongst young people. The second and third films were released at two-year intervals, whereas the fourth film was released in 2012.
A spin-off film series titled American Pie Presents, which includes four direct-to-video films was released from 2005 to 2009. Throughout the first film in the original series, Jim Levenstein (Jason Biggs) tries to develop a relationship with his school classmate Nadia (Shannon Elizabeth), and along with his best friends Kevin Myers (Thomas Ian Nicholas), Paul Finch (Eddie Kaye Thomas), and Chris Ostreicher (Chris Klein), attempts to lose his virginity. In the second film, with good friend, and Finch's frenemy Steve Stifler (Seann William Scott), the friends host a summer party and Jim switches his interest to his friend, Michelle Flaherty (Alyson Hannigan).
In the third film, Jim and Michelle plan to marry, although the forced invitation of Stifler could ruin everything. In the fourth film, the gang gets back together in anticipation for their thirteenth high school reunion.
The spin-off series later revolves around relatives of Stifler, including his brother, Matt (Tad Hilgenbrink), and cousins Erik (John White), Dwight (Steve Talley), Scott (John Patrick Jordan), and their respective friends attempting similar activities. The spin-off films were released direct-to-video. The original series has received mixed to positive reviews from critics, while the spin-off series has received negative reviews from critics. This Original Props & Autographs have all been stored in an acid free sleeve in a smoke free, pet free environment since being acquired.
Buyers are responsible for any V. Check out our other auctions for more Movie Collections that include wardrobe, props & autographs from a variety of TV & Movies, including more "AMERICAN PIE" Props & Costumes. Sell is a Registered Dealer with the U. We are proud that some of our memorabilia is on disp lay at the SMITHSONIAN in Washington, D.
Heimdell51 Praise: Great guy; very prompt & efficient service & exc. Packaging; got a free bonus too!
Austinpowheinybeer Praise: GREAT GREAT GREAT!! Toothfella Thanks for the super helmet Jack! Hope to do business again. Jimsoden Praise: Great packing, good emails, very generous with his time and effort, class act!!! Circus10 Praise: Fabulous costume, vintage RBBB.
Belfast Praise: Wonderful Ebayer & with genuine COA's too! If this autograph is declared not to be authentic, we may ask the purchaser to supply the full written opinion of one competent authority acceptable to us. This entire RARE Original COLLECTION includes a JASON BIGGS ("Jim") & ALYSON HANNIGAN ("Michelle") Signed & Framed 8x10 Color AUTOGRAPHED PHOTOS, r are screen-used "East Great Falls FOOTBALL" shirt from Stifler's TEAM (AP3), a.
Screen-used "CENTRAL" fan football PENNANT (AP1), a. Screen-used "Tall Oaks Band Camp" PROGRAM (AP2). & a Sealed DVD Set in the case of all 3 "AMERCIAN PIE" great classic movies. This entire collection comes from a DGA Film Director's personal collection and includes 5 COA's that guarantee this PROPS & AUTOGRAPHS absolutely genuine... And all guaranteed for life by UACC Registered Dealer #228...
The Prop COA's are also signed by a representative of UNIVERSAL PICTURES. A GREAT piece of Comedy MOVIE history..... A real "One of a Kind" Find & Conversation Pieces for both the "AMERICAN PIE" FAN and MOVIE PROP COLLECTORS.... Movie & Television Props & Autographs can make for a good investment as well! Check out our other auctions for more great items, including more PROPS & COSTUMES!
Imagine giving this great comedy movie classic prop to the Movie & AMERICAN PIE Collector in your family or just keeping it for yourself for what could be a good investment! A GREAT MOTION PICTURE PROP & AUTOGRAPH Collection from the classic "AMERICAN PIE" films starring JASON BIGGS and ALYSON HANNIGAN.
A VERY RARE & VALUABLE ONE OF A KIND COLLECTION!! You may never see another RARE COLLECTION like this ever offered to the public again! The item "AMERICAN PIE signed JASON BIGGS, ALYSON HANNIGAN + 3 Props, DVD, UACC COA, Frame" is in sale since Thursday, April 11, 2019.
This item is in the category "Entertainment Memorabilia\Movie Memorabilia\Props\Originals". The seller is "jackmsell" and is located in New Port Richey, Florida. This item can be shipped worldwide.
Country of Manufacture: United States
Modified Item: No
Country/Region of Manufacture: United States

---