Blade Runner Tyrell Corp Model Large 14 Brass Piece- Movie Prop Propstore COA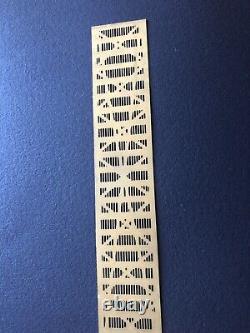 A production-made Tyrell pyramid etched brass piece from Ridley Scott's sci-fi drama Blade Runner. Model miniatures were created to depict the futuristic cityscape of 2019 Los Angeles, including the outerwall of the Tyrell Corporation inclinators. This brass piece features a brutalist design etching, which creates the appearance of windows, shafts, and support beams for the elevators. This piece was from a larger sheet of similar brass pieces. The brass piece exhibits some discoloration and denting, but it in very good production used condition, overall.
This brass piece is approximately 14" x 1.5". Smaller brass pieces are available at a lower price.

---