GRINCH PROP Rare Screen Used Hero SANTA BAG Race, COA UNIVERSAL, Jim Carrey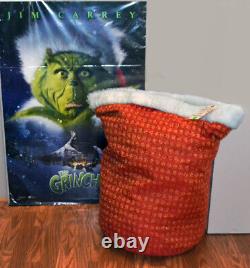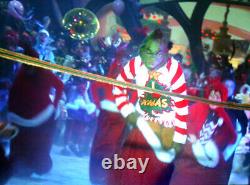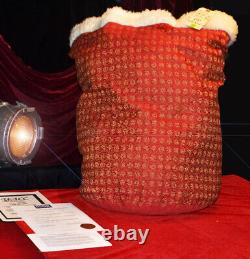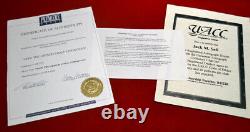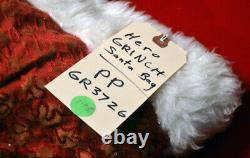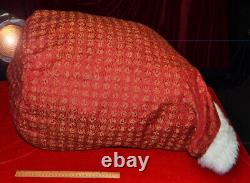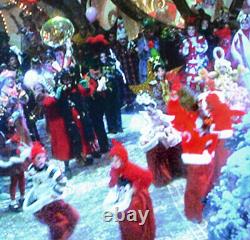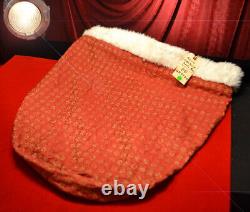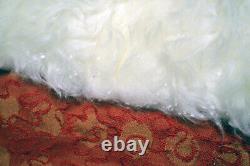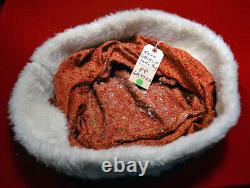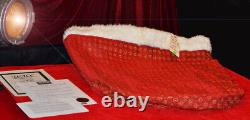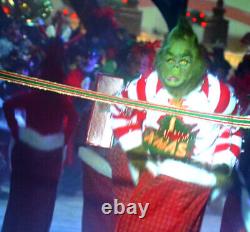 "How The GRINCH Stole Christmas". Jim Carrey is being honored in Whoville and he gets into his Santa Bag and races the kids in town! THIS IS ONE OF THOSE PROPS!
It's been over 20 years since the Jim Carrey Grinch movie came out. Our family just loved it & still watch it every Christmas. As a movie director living in Hollywood, I've collected many of my favorite props over my career. Now, that we're semi-retired in Florida, we are downsizing our collection.
Our kids are grown, but we used to have this great Prop Santa Bag appear every Christmas morning where "Santa" would leave his presents in the bag! It always brings a smile to people's faces when they spot it! Imagine our kids seeing that SANTA "Grinch" BAG by the tree every Christmas morning! They just knew that the "Grinch" came every year to our house. But, now it's time to let another family enjoy this Santa BAG Prop as much as we have!
We're in no rush to sell it. Of course, it's a very expensive acquisition that should only go up in value in the years to come. But, whoever acquires, I hope they have as much fun and cheer as it gave our family every year!! A GREAT GIFT for the Grinch Fan or could be a Great Investment Piece! 6 Sound Stages at Universal Pictures were used by director Ron Howard when shooting "How The Grinch Stole Christmas" in 1999.
We acquired many of the Props used in the film from Premiere Props, who obtains all of their screen-used props directly from Universal Studios when the film wrapped in 2000. And, this Grinch JIM CARREY Hero "SANTA BAG" comes with the Original COA (Certificate of Authenticity) signed in blue ink by a representative of UNIVERSAL PICTURES & PREMIERE PROPS witht their gold embossed seal. This great motion picture is a Christmas Classic that will live on for millions of viewers for years to come!
This Very RARE & unusual prop was made and assembled by Eduardo H. Esparza & his fellow prop makers at Universal Studios and, of course is one of the Santa BAGS seen in the movie when Jim Carrey races the kids in WHOVILLE in a "Sack" Race! Of course, JIM CARREY as the "Grinch" wins the race & beats the other Whoville kids!
This screen-used prop is hand made in the unique fun style of Dr. Seuss, with it's great loops & angles that you see all over WHOVILLE!
This design uses this very nice & strong red brocade cloth with white fur fringe around the top. The SANTA BAG still has prop snow on it from filming on the Whoville set.. Here's the inside of the prop GRINCH BAG, full of snow since it was used to film the Santa Race Bag scene!
And, this prop is very well made, very strong and still in excellent condition.. This Prop Grinch SANTA BAG measures approximately 30" high x 30" across..
The fantastic genuine Screen-Used PROP Grinch SANTA BAG is used but in very good condition and this was obtained from the Universal Studios set of Grinch and includes the ORIGINAL Certificate of Authenticity (COA) that guarantees this original screen-used Prop genuine and is signed in blue ink pen by a representative from UNIVERSAL PICTURES & PREMIERE PROPS with the official gold seal. The original Prop Grinch "Santa BAG" has been displayed in a pet free, ciggy free environment for the past 20 years.
This one-of-a-kind GRINCH PROP is just ready to Frame or Hang in your Home or Museum! Sell is a Registered Dealer with the U. We are proud that some of our memorabilia is on display in the SMITHSONIAN, Washington, D. Heimdell51 Praise: Great guy; very prompt & efficient service & exc. Packaging; got a free bonus too! Austinpowheinybeer Praise: GREAT GREAT GREAT!!
Toothfella Thanks for the super helmet Jack! Hope to do business again. Jimsoden Praise: Great packing, good emails, very generous with his time and effort, class act!!! Circus10 Praise: Fabulous costume, vintage RBBB.
Belfast Praise: Wonderful Ebayer & with genuine COA's too! AND, peggie701 wrote us this nice letter. JACK, GOT YOUR PACKAGE TODAY! I WAS VERY IMPRESSED AT THE WAY YOU PUT ALL THE GRINCH PROPS TOGETHER. I PUT YOU IN ONE OF MY FAVORITES!
AND, THANKS TO THE OTHER 10,000 GREAT EBAYERS WE'VE HAD THE HONOR OF WORKING WITH FOR OVER A 20 YEARS.... WE LOOK FORWARD TO MEETING MANY MORE GREAT EBAYERS IN THE FUTURE FROM ALL OVER THE WORLD! Of course, you also receive the Original COA (Certificate of Authenticity) that guarantees this prop genuine direct from UNIVERSAL STUDIOS.. A GREAT piece of MOTION PICTURE history.... A real "One of a Kind" Find & Conversation Piece....
Movie & Television Props & Autographs could make for a good investment as well! "HOW THE GRINCH STOLE CHRISTMAS". A GREAT HOLIDAY GIFT & Grinch COLLECTIBLE! Imagine giving this great GRINCH movie PROP Grinch SANTA BAG to the JIM CARREY "Grinch" Fan in your family!
A GREAT MOTION PICTURE PROP from a classic film, HOW THE GRINCH STOLE CHRISTMAS. VERY RARE & VERY VALUABLE ONE OF A KIND PROP!

---