JOKER (2019) SCREEN USED Movie Prop Background Sign Joaquin Phoenix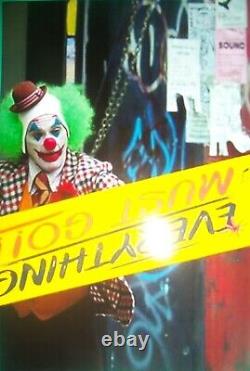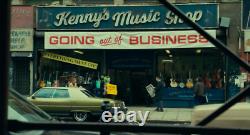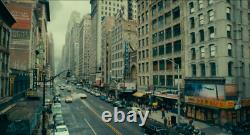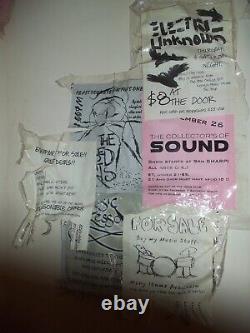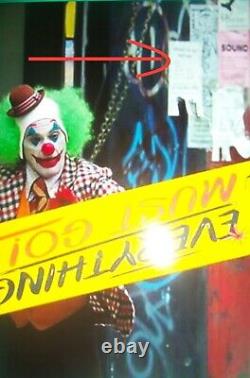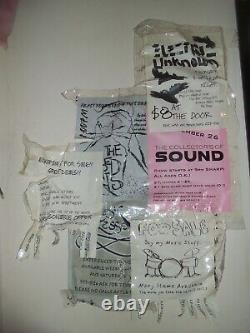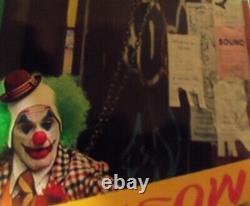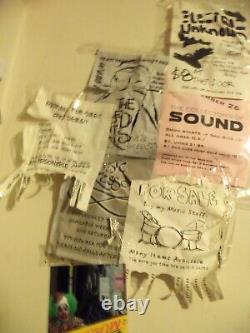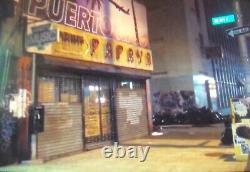 TO THE MOVIE PROP COLLECTOR COMMUNITY. SERIOUS BUYERS AND INQUIRY'S ONLY! ANY INQUIRY'S THAT ARE NOT SERIOUS WILL BE DOCUMENTED. Props or set pieces from what I have seen from this film are few and far between if any at all. I was on set of this film and when I watched them start taring down the set and throwing everything out and destroying it, I waited for the perfect moment when I knew a piece that was going to be in the film shown on screen with Joaquin in the shot and I stepped in and asked for it.
I believe that because of this I reserve and deserve the right to price this item as I wish. My hopes are that this item ends up in someones media room or even any type of museum where it can be appreciated.
I originally had this item listed at a much higher price and received many unkind messages regarding it's price. I just want the community which I always believed to be friendly to understand that I truly did not want to sell this item and was very excited to have it and felt its value should reflect that. I have now lowered my price. I also had a newspaper but mine there was only 1 of from a different scene.
I know this because I spent 5 days on set. I ask all toxic people to please do not ruin a chance for someone to have this item and degrade the item as it is a wonderful piece of this amazing films history that can be preserved and cherished throughout history. Simply put if you can not afford the item then it's just not for you. I ask everyone and anyone viewing this to please respect that. DESCRIPTION AND HISTORY OF THIS ITEM. This is the entire unique signage you can see in the background of one of the scenes from the movie. I spent all five Days/Nights on the set of this movie while it was being filmed in Newark New Jersey on Broad street and Market street. This is from the front of a furniture store that production turned into a music store which the film's production named Kenny's music shop that is located on market street and the cross street being beaver street.
The first photo is a photo paparazzi took while the film was being filmed. The second photo is the exact scene pulled directly from the movie which clearly shows the sign in the scene. It is a taped together posting that the films production made as a background for the scene's which have Kenny's music shop in it such as the one shown in the first picture of this listing. If having and showing you a photo of the paparazzi having this sign in the shot, The actual scene with this sign in the shot, and a actual photo I took with this sign in the shot is not enough evidence that this is clearly the real thing then I don't know what more anyone could ask. Sign measures about 31" tall and 23" wide.
It will also include a 4" x 6" photo which is the first photo of this listing of the joker in front of the sign. I will also include 2 more photos from the exact scene. All of which will be framed with the item. I got this item because I stood by while set designers were taking it down and asked for it (they were literally going to throw it in a dumpster as they did with many wonderful pieces from the film). I feel that I should be praised in the community for having have preserved and saved a item by asking for it and being given it that will allow someone to have a piece from this film and it be in existence.
I tried to keep it in tact as best as I could. Please view the pictures it will come exactly as you see in the fourth, fifth, and seventh picture.
If you see the movie you will see this item in the theatrical and home release of it also If you do enough research for videos/photos on the web you will see that this is a 100% Authentic Movie Prop from the production of the film. The picture shown of the joker standing in front of the sign is a picture a fan/paparazzi took. THIS ITEM IS SCREEN USED AND CLEARLY VISIBLE IN THE JOKER (2019) WITH JOAQUIN PHOENIX IN THE SHOT. It is rare to find movie props from Warner Bros/Dc comics film that has a award winning and Oscar nominated actor in it. This is truly a great chance to own something like this.
INTERNATIONAL buyers will not get this item in the frame. Of course due to this item being given to me by set designers it does not come with a coa but this listings details should be more then enough info and proof for now and the future.
This is a very real and authentic piece of movie history. I promise and assure this item to be a one of kind item that I got directly from and during the production of the 2019 Joker Movie. This item was screen used and shown in the JOKER (2019) and that is without a doubt as I watched this item go from scene to me. Please ask me any questions as I like speaking about this item. Just please be friendly otherwise your message or comment will be posted where people will be able to see it.
I kindly ask please do not waste my or your own time sending me messages with your opinions or any irrelevant comments as I did not list this item to waste a collectors time. I did it so they can have an actual item shown on film from a film they enjoy! I do not have any rush to sell this item as it already has a good home with me but if I can make someone happy having this item then that is the point but I will not let it go for less then I saw less impressive item sell for from this film so please don't ask as I do not NEED to sell this item. This item is in the category "Entertainment Memorabilia\Movie Memorabilia\Props\Originals". The seller is "capdinplanit" and is located in this country: US. This item can be shipped to United States.
Object Type: Prop
Industry: Movies

---