OCTOBER SALE! Inglourious Basterds (2009)Screen Used Movie Prop Bullwhip COA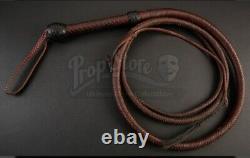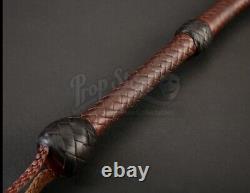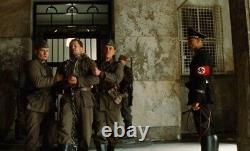 A Bullwhip from Quentin Tarantino's 2009 war drama, Inglourious Basterds. Following an alternative history, the film takes place in Nazi-occupied France during World War II, and a plan to assassinate Nazi leaders by a group of Jewish U. Soldiers coincides with a theatre owner's vengeful plans for the same. A Nazi officer bullwhip used to beat character Hugo Stiglitz (Til Schweiger) when he was introduced.
His backstory reveals how he was captured by the Nazis and then released by the rest of the Basterds. This whip is made from woven brown kangaroo leather, with a firm handle which is bookended by two black leather knobs. A woven leather handle allows the whip to be secured around a wrist, and the tip of the whip has a single leather strand with a string at the end, allowing this whip to CRACK when used properly. This item is a high quality bullwhip. It features some signs of wear from use, including some wear of the leather, but remains in overall good condition.
It is a 6' whip. Comes with a Propstore COA.

---