Scream 4 PROP Sydney BOOK, Signed WES CRAVEN & NEVE CAMPBELL, Frame COA UACC DVD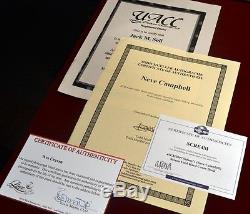 Great SCREAM 4 Prop & Autograph DISPLAY. Neve Campbell & Wes Craven. This RARE Framed AUTOGRAPH & PROP Collection includes.
Hand-Signed Original Autograph of NEVE CAMPBELL... A great autograph nicely framed with engraved plaque & movie graphics. Hand-Signed Original Autograph of the Director/Creator of "SCREAM" film series, WES CRAVEN. A Screen-Used PROP BOOK entitled "Out Of Darkness" by the character, Sidney Prescott.
Three ORIGINAL Certificates of Authenticity accompany these 3 GREAT Original AUTOGRAPHS & PROP DISPLAY that are Guaranteed genuine for life by UACC Registered Dealer #228 & DGA Director Jack M. Factory Sealed BLU RAY DVD of SCREAM 4 with the extras. As a TV & Movie DIRECTOR and a lifetime member of the Director's Guild of America, D. Sell is offering some rare props & collectibles from his personal collection from some great television & motion pictures, including "STAR WARS, " "RESIDENT EVIL, " APOLLO 13, " "STAR TREK, " "AMERICAN PIE, " "DIRTY DANCING, " "E. ", "WARM BODIES, " "CASINO ROYALE, " "bruno, " "GONE WITH THE WIND, " "CHRONICLES OF RIDDICK, " "HANNIBAL, " "BATMAN, " "IT'S A WONDERFUL LIFE, " "SUPERMAN, " "GHOST, " "NATIONAL TREASURE, " "SKYFALL, " "SPIDER-MAN" & "PIRATES of the CARIBBEAN + dozens of other Films & Television shows, many destined to become Classics that will live on for millions of viewers for years to come.
Scream 4 is a 2011 American slasher film and the fourth and final installment in the Scream series. The plot involves Sidney Prescott returning to Woodsboro after ten years, as part of her book tour. As soon as she arrives, Ghostface once again begins killing students from Woodsboro High. Originally, the series was intended to be a trilogy, but film production for a fourth installment was approved by Bob Weinstein.
Filming took place in and around Ann Arbor, Michigan, in June 2010 to September 2010, with re-shoots in early 2011. It received mixed reviews from critics although many noted it as an improvement over Scream 3. The Screen-Used PROP BOOK from the set of the Bookstore in Ann Arbor.. And engraved plaque identifying this rare prop.
This PROP Book is screen-used but in overall good condition! This ORIGINAL Neve Campbell Autographed Picture was signed in black marker on this great color 8x10 Photo.. This framed autograph has this nice engraved Silver Plaque that reads.
You also receive this very RARE 8x10 color autograph of the Director & Creator of these great film, WES CRAVEN (RIP) that he signed in Black Marker. The framed DISPLAY also has the "Scream 4" Logo under the glass! You get THREE original CERTIFICATES of AUTHENTICITY for both AUTOGRAPHS & PROP issued by a UACC Registered Dealer Piece of the Past & Todd Mueller AUTOGRAPHS + world renowned PREMIERE PROPS, all guaranteed genuine by D. This fantastic dramatic black wood frame measures approximately 15" x 13".. This GREAT RARE COLLECTION is just ready to display in your Home, Office, Media Room or Museum.
We also include this brand new Factory Sealed BLU RAY DVD Set of "SCREAM 4, " with all these extras.. On the fifteenth anniversary of the original Woodsboro murders, high school students Jenny Randall and Marnie Cooper are attacked and brutally murdered by a new Ghostface. After evidence is found in Sidney's rental car, Sidney becomes a suspect in the murders and must stay in town until the murders are solved. She and her friends Olivia Morris and Kirby Reed, are questioned about their calls by Dewey Riley, who is now the sheriff of the town, while one of his deputies, Judy Hicks, assists him in the case.
Meanwhile, Dewey's wife, Gale Weathers-Riley, is struggling with writer's block. She gives up the writing and decides to investigate the murder instead.
Sidney stays with her aunt Kate Roberts. Later that night, Olivia, who lives next door to Jill, is attacked and killed by Ghostface as Jill and Kirby watch in horror. Sidney and Jill rush in to save Olivia, but the killer injures them and gets away. Sidney and Jill are taken to the hospital. Later, in the hospital's parking garage, Ghostface murders Rebecca. Gale, trying to solve the murders, enlists the help of two high school movie fanatics Charlie Walker and Robbie Mercer, who explain that the killer is using the rules of movie remakes to murder.
Charlie concludes that the killer will likely strike at a party being held that night. Gale goes to the party to investigate. Ghostface attacks and stabs her but flees when Dewey arrives. Dewey takes her to the hospital. At Jill's house, Sidney discovers that the policemen assigned to guard the house are dead.
She also discovers that Jill has left the house and gone to Kirby's. Sidney goes down to tell Kate, but the killer appears and chases her and Kate.
In the ensuing attempt to keep Ghostface from entering the house, Kate is stabbed and killed. After Deputy Judy Hicks arrives, Sidney rushes to Kirby's house to save Jill on her own. Jill, Kirby, Charlie, Robbie, and Trevor are at Kirby's house when Ghostface appears and stabs and kills a drunken Robbie. Sidney arrives at the house. Kirby is forced to answer horror movie trivia to save Charlie, who is tied up outside.
Sidney goes upstairs to find Jill, promising to return to Kirby. After Kirby answers Ghostface's questions, she goes outside to untie Charlie, believing that she has won the game. He unexpectedly stabs her in the stomach and reveals himself as Ghostface, before leaving her for dead. Sidney is then attacked by Charlie and stabbed by a second Ghostface, who reveals herself as Jill. She and Charlie explain that they committed the murders as a part of a remake of the first murders. Jill further reveals that she did it out of anger and jealousy of Sidney's fame and she wants the attention Sidney got for surviving the murders.
They also reveal that they intend to frame Trevor as Ghostface. Charlie then pulls Trevor out of the closet; Jill kills Trevor by shooting him in the groin and then in the head. Charlie asks Jill to stab him non-fatally to make them look like victims; Jill responds by stabbing him to death, intending to pin him as Trevor's accomplice and to make herself the sole survivor.
Jill stabs Sidney again before injuring herself to make it seem as if Trevor attacked her. Later, Dewey, Judy, and the rest of the police stumble upon the carnage. Jill is then taken to the hospital.
After discovering that Sidney has survived, she goes to her room to finish her off. Dewey, Gale, and Judy intervene, having been clued by a detail about Gale's injury that Jill somehow knew. Jill subdues all of Sidney's rescuers with Dewey's gun, which gives Sidney the chance to electrocute Jill before shooting her in the chest, finally killing her. Dewey calls in all police units, as media reporters outside inaccurately confirm Jill as the "sole-surviving hero" and a "hero, right out of the movies" giving Jill the fifteen minutes of fame she so desperately craved, only not to experience it.
We might pay more for our autographs & props... We even sell items from our personal collection, but we want to make sure that what we acquire is absolutely genuine and in the best condition to not only make this a valuable piece for your family to enjoy, but also a valuable investment piece. I direct movies & television shows, but have also been an avid collector of Historical & Movie Autographs, Art, Props & High End Collectibles for a quarter of a Century. CHECK OUT OUR OTHER AUCTIONS FOR MORE GREAT ITEMS INCLUDING AUTOGRAPHS of famous People, Movie & Television Prop & Costume Collections, ART, rare Toys, POSTERS, Collectibles and more "ONE OF A KIND" finds! They cannot be duplicated or reproduced or posted anywhere without the express written permission of Sell Communications...
Our photos are included as part of our ad description. Sell is a Registered Dealer with the U. We are proud that some of our memorabilia is on display in the SMITHSONIAN, Washington, D. One of our displays hangs in the halls of the U.
If this autograph is declared not to be authentic, we may ask the purchaser to supply the full written opinion of one competent authority acceptable to us. Btbandabbermake3s PRAISE: Fantastic items, 30 Star Movie Maker! Heimdell51 "PRAISE: "Great guy; very prompt & efficient service & exc. Packaging; got a free bonus too! Austinpowheinybeer PRAISE: GREAT GREAT GREAT!!
Toothfella PRAISE: Thanks for the super helmet Jack! Hope to do business again. Jimsoden PRAISE:Great packing, good emails, very generous with his time and effort, class act!!! Circus10 PRAISE: Fabulous costume, vintage RBBB. Belfast PRAISE: Wonderful Ebayer & with genuine COA's too! AND, THANKS TO THE OTHER 9000 GREAT EBAYERS WE'VE HAD THE HONOR OF WORKING WITH FOR OVER 15 YEARS.... WE LOOK FORWARD TO MEETING MANY MORE GREAT EBAYERS IN THE FUTURE FROM ALL OVER THE WORLD! A GREAT piece of American Television History..... A real "One of a Kind" Find & Investment Piece.... Movie & Historical Autographs, Artifacts, Posters, Props & Art could make for a good investment as well! Check out our other auctions for more great items, including AUTOGRAPHS, SPACE Memorabilia, Historical Collections, Movie & Television PROP COLLECTIONS. A Great Motion Picture, "SCREAM 4" Collection includes hand-signed Original Autograph of NEVE CAMPBELL, nicely framed with engraved plaque & movie graphics, h and-signed Original Autograph of the Director/Creator of "SCREAM" film series, WES CRAVEN, a Screen-Used PROP BOOK entitled "Out Of Darkness" by the character, Sidney Prescott, three ORIGINAL Certificates of Authenticity accompany these 3 GREAT Original AUTOGRAPHS & PROP DISPLAY that are Guaranteed genuine for life by UACC Registered Dealer #228 & DGA Director Jack M.
Sell, factory sealed BLU RAY DVD of SCREAM 4... A very unique collection & display piece. We use the very best packing materials, usually bubble-wrapped with peanuts and/or double boxed when necessary.... Ready to Display in your Home, Office, Museum or Media Room. You may be gone, but not forgotten.
Add a map to your own listings. The item "Scream 4 PROP Sydney BOOK, Signed WES CRAVEN & NEVE CAMPBELL, Frame COA UACC DVD" is in sale since Friday, April 12, 2019. This item is in the category "Entertainment Memorabilia\Movie Memorabilia\Props\Originals". The seller is "jackmsell" and is located in New Port Richey, Florida. This item can be shipped worldwide.
Product: PROPS, AUTOGRAPH, COA
Original%2FReproduction: Original, Genuine, UACC RD#228
Country of Manufacture: United States
Country/Region of Manufacture: United States
Original/Reproduction: Original- US
Genre: Movie Memorabilia
Product Type: PROP & AUTOGRAPH
Type: SCREEN USED PROP, Autograph

---