Signed MALCOLM McDOWELL CLOCKWORK ORANGE Autograph HAT, DVD, Radtke COA, UACC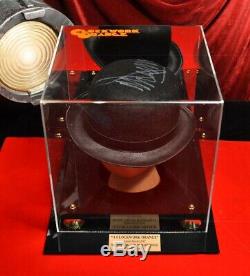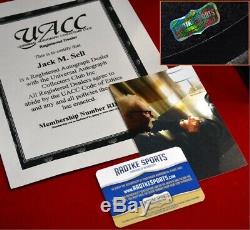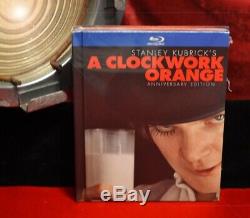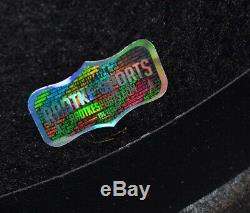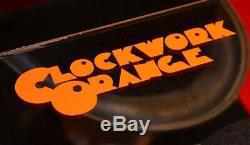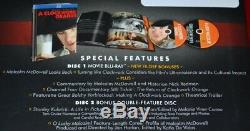 Signed & Autographed Prop replica DERBY by MALCOLM McDOWELL, COA, DVD, Display Case, Plaque. A Great Classic Motion Picture... A Great Gift or Investment for the Stanley Kubrick FAN! This particular "Clockwork Orange" collection includes. A Genuine Original Malcolm McDowell Signed Autograph in Silver Ink Pen on the Derby.
Sealed Blu Ray DVD of "CLOCKWORK ORANGE" in the special "BOOK" edition with all the extras. Original CERTIFICATE of AUTHENTICITY from world renowned RADTKE in a private signing with photo & hologram + guaranteed genuine for life by UACC RD#228. As a TV & Movie DIRECTOR and a lifetime member of the Director's Guild of America, D. Sell is offering some rare PROPS, AUTOGRAPHS & COSTUMES, ART & COLLECTIBLES from his personal collection from some great television & motion pictures, including "STAR WARS, " "RESIDENT EVIL, " APOLLO 13, " "STAR TREK, " "AMERICAN PIE, " "DIRTY DANCING, " "E.
", "AEON FLUX, " "WARM BODIES, " "CASINO ROYALE, " "bruno, " "GONE WITH THE WIND, " "CHRONICLES OF RIDDICK, " "HANNIBAL, " "BATMAN, " "WIZARD OF OZ, " "IT'S A WONDERFUL LIFE, " "SUPERMAN, " "GHOST, " "NATIONAL TREASURE, " "SKYFALL, " "SPIDER-MAN" & "PIRATES of the CARIBBEAN + dozens of other Films & Television shows, many destined to become Classics that will live on for millions of viiewers for years to come. This Prop Replica DERBY is similar to the one worn in "CLOCKWORK ORANGE" by the crazy McDowell character is creatively displayed on an acrylic clear base with a clear case cover with a hat stand attached inside the case.. A nd, on the top of the case is a custom orange label showing the logo from the film, CLOCKWORK ORANGE.
And comes ready to display in your Home, Museum, Office or Media Room! A UNIQUE One of a Kind "CLOCKWORK ORANGE" DISPLAY! MALCOLM McDOWELL signed this replica prop DERBY in Silver ink marker in person..
This rare Prop replica DERBY was acquired from world renowned Autograph Dealer RADTKE and includes the Original Certificate of Authenticity (COA) with a photo Malcolm signing the hat... This entire collection comes from the personal collection of Director Jack M. Sell, lifetime member of the D. (Director's Guild of America) and guaranteed by UACC RD #228. The Acrylic Display on gold risers measures approximately 11" Wide, measures approximately 12" High and approximately 15 Deep... The Case easily lifts off if you'd like to hold, handle or wear the autographed DERBY.. The CASE has gold risers & a hat stand with this engraved plaque mounted to the front of the case. The DERBY is a replica prop similar to the one he wore in this famous Stanley Kubrick movie, CLOCKWORK ORANGE. It was not screen-used and is in GOOD condition.. "CLOCKWORK ORANGE" starring Malcolm McDowell directed by STANLEY KUBRICK. Of course, this nice Original Autographed replica movie DERBY was Signed by MALCOLM McDOWELL in person in Silver permanent Marker.. You receive the original Certificate of Authenticity from world renowned RADTKE Autographs.. With a photo of McDowell signing the Derby that is also guaranteed by UACC Registered Dealer #228...
You also receive the Oscar Nominated 1971 motion picture, "CLOCKWORK ORANGE, " Directed by STANLY KUBRICK and Starring MALCOLM McDOWELL on Blu Ray DVD, a special BOOK edition, factory sealed in the case. And you get all these extra BONUS pieces! This one of kind prop replica "CLOCKWORK ORANGE" DERBY is Signed by the movie's star MALCOLM McDOWELL, creatively displayed in this beautiful plexiglass case to give it "eye" appeal! In future Britain, charismatic delinquent Alex DeLarge is jailed and volunteers for an experimental aversion therapy developed by the government in an effort to solve society's crime problem - but not all goes according to plan.
A Clockwork Orange is a 1971 British film written, produced, and directed by Stanley Kubrick, adapted from Anthony Burgess's 1962 novella A Clockwork Orange. It employs disturbing, violent images to comment on psychiatry, juvenile delinquency, youth gangs, and other social, political, and economic subjects in a dystopian future Britain. Alex (Malcolm McDowell), the main character, is a charismatic, sociopathic delinquent whose interests include classical music (especially Beethoven), rape, and what is termed "ultra-violence".
He leads a small gang of thugs (Pete, Georgie, and Dim), whom he calls his droogs from the Russian???? The film chronicles the horrific crime spree of his gang, his capture, and attempted rehabilitation via controversial psychological conditioning. Alex narrates most of the film in Nadsat, a fractured adolescent slang composed of Slavic (especially Russian), English, and Cockne rhyming slang. The soundtrack to A Clockwork Orange features mostly classical music selections and Moog synthesizer compositions by Wendy Carlos (then known as Walter Carlos).
The artwork of the now-iconic poster of A Clockwork Orange was created by Philip Castle with the layout by designer Bill Gold. Golden Globe Nominated Actor, Malcolm McDowell. Malcolm McDowell (born Malcolm John Taylor ; 13 June 1943) is an English actor, known for his boisterous and sometimes villainous roles, whose career spans more than four decades. He trained as an actor at the London Academy of Music and Dramatic Art.
McDowell is known for the controversial films If.... Caligula and A Clockwork Orange , for which he was nominated for a Golden Globe for his portrayal of Alex DeLarge.
He has also played varied roles in films and television series of different genres, including The Employer , Tank Girl , Franklin and Bash , Time After Time , Star Trek Generations , the television series Our Friends in the North , Entourage , Heroes , Metalocalypse. He has also lent his voice to several animated roles as well such as Ra's Al Ghul's son Arkady Duvall in Batman, the Animated Series and as Metallo in Superman, The Animated Series as well as to the animated film Bolt. Sam Loomis in the 2007 remake of Halloween. He also appeared in the music video for the 2009 Slipknot song "Snuff". He also narrated the 1982 documentary The Compleat Beatles.
He received a star on the Hollywood Walk of Fame in 2012. The original autographed "CLOCKWORK ORANGE" replica DERBY. Has been stored in a 70 degree controlled environment in an acid free case in a smoke free, pet free environment since being acquired. Our pictures are included as part of our ad description. Check out our other auctions for more TV & Movie Collections that include wardrobes, props & autographs.
Sell is a Registered Dealer with the U. We are proud that some of our memorabilia on display in the SMITHSONIAN, Washington, D. Btbandabbermake3s PRAISE: Fantastic items, 30 Star Movie Maker! Heimdell51 "PRAISE: "Great guy; very prompt & efficient service & exc. Packaging; got a free bonus too!
Austinpowheinybeer PRAISE: GREAT GREAT GREAT!! Toothfella PRAISE: Thanks for the super helmet Jack! Hope to do business again.
Jimsoden PRAISE: Great packing, good emails, very generous with his time and effort, class act!!! Circus10 PRAISE: Fabulous costume, vintage RBBB. Belfast PRAISE: Wonderful Ebayer & with genuine COA's too! It is the most professional- quality work I've ever seen, absolutely worth every penny. I can't thank you enough for helping me to realize my dream of being able to hold in my hand something that was actually a part of this movie.
I even cried a little when I touched the prop for the first time. Thank you from the bottom of my heart. I hope to do business with you again some day! AND, peggie701 wrote us this nice letter.
JACK, GOT YOUR PACKAGE TODAY! I WAS VERY IMPRESSED AT THE WAY YOU PUT ALL THE PROPS TOGETHER. I PUT YOU IN ONE OF MY FAVORITES! AND, THANKS TO THE OTHER 10,000 GREAT EBAYERS WE'VE HAD THE HONOR OF WORKING WITH FOR OVER 15 YEARS....
WE LOOK FORWARD TO MEETING MANY MORE GREAT EBAYERS IN THE FUTURE FROM ALL OVER THE WORLD! If this autograph is declared not to be authentic, we may ask the purchaser to supply the full written opinion of one competent authority acceptable to us. GOOD LUCK on this Rare Prop replica DERBY Signed & Autographed by MALCOLM McDOWELL, displayed in a Plexiglass Case with engraved description Plaque & Logo, Original Sealed Blu Ray Boxed DVD "BOOK" Set of "CLOCKWORK ORANGE" with the extras and Original CERTIFICATE of AUTHENTICITY from world renowned RADTKE Autographs and guaranteed genuine for life by UACC RD#228 with a color photo of Malcolm McDowell signing the Hat. A GREAT piece of Motion Picture history.... A real "One of a Kind" Find & Conversation Pieces....
Movie & Television Autographs, Props & Costumes can make for a good investment as well! Check out our other auctions for more great movie & television show PROPS, AUTOGRAPHS & COSTUMES! Imagine giving this great motion picture collection to the Fan in your family or just keeping it for yourself for what should be a good investment! A GREAT COLLECTION from the STANLEY KUBRICK classic motion picture, "CLOCKWORK ORANGE, " starring MALCOLM McDOWELL. VERY RARE & VALUABLE ONE OF A KIND AUTOGRAPH COLLECTION!! This would look great displayed in your Home, Museum, Media Room or Office! The item "Signed MALCOLM McDOWELL CLOCKWORK ORANGE Autograph HAT, DVD, Radtke COA, UACC" is in sale since Wednesday, April 10, 2019.
This item is in the category "Entertainment Memorabilia\Autographs-Original\Movies\Other Orig. The seller is "jackmsell" and is located in New Port Richey, Florida. This item can be shipped worldwide.
Movie: CLOCKWORK ORANGE
Autograph Authentication: RADTKE & UACC RD#228
Original/Reproduction: Original
Signed by: MALCOLM McDOWELL
Country/Region of Manufacture: United States
Industry: Movies

---