SPIDER-MAN Prop CLOTH Costume & WEB, Signed TOBEY MAGUIRE, DVD, Frame, COA UACC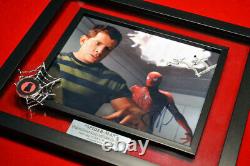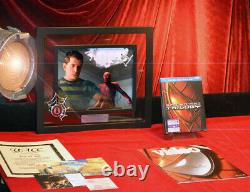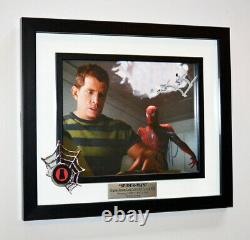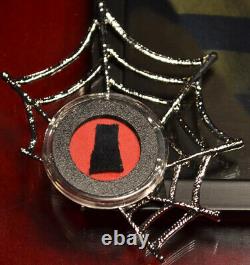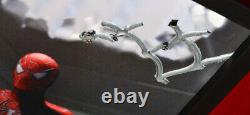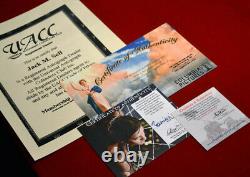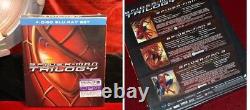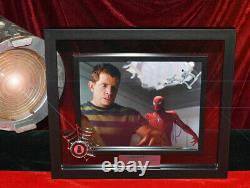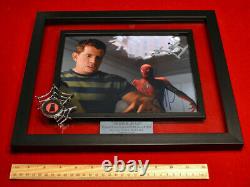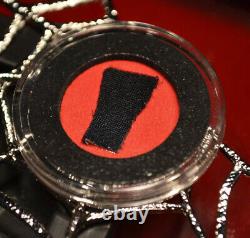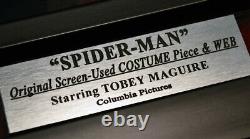 A rare screen-worn piece of an actual SPIDER-MAN 2 COSTUME carefully cut from the right side torso. A rare screen-used piece of actual SPIDER WEB used in the movie. RARE Original TOBEY MAGUIRE Signed In Person & Framed Color AUTOGRAPH. CERTIFICATES OF AUTHENTICITY from COLUMBIA PICTURES STUDIO & UACC Registered Dealer #228. A vintage MAGAZINE featuring SPIDER-MAN. 3 sealed BLU RAY DVD's in the Box Set of SPIDER-MAN, SPIDER-MAN 2 and SPIDER-MAN 3, great classic movies starring Tobey Maguire. As a TV & Movie DIRECTOR and a lifetime member of the Director's Guild of America, D. ", "AEON FLUX, " "WARM BODIES, " "CASINO ROYALE, " "bruno, " "GONE WITH THE WIND, " "CHRONICLES OF RIDDICK, " "HANNIBAL, " "BATMAN, " "WIZARD OF OZ, " "IT'S A WONDERFUL LIFE, " "SUPERMAN, " "GHOST, " "NATIONAL TREASURE, " "HOOK, " "SKYFALL, " "SPIDER-MAN" & "PIRATES of the CARIBBEAN + dozens of other Films & Television shows, many destined to become Classics that will live on for millions of viewers for years to come. This particular "SPIDER-MAN" collection includes an Original Screen-Used piece of the actual SPIDER-MAN COSTUME artifact that comes from the right torso area... This costume was worn in the movie by TOBEY MAGUIRE who plays Spider-Man on the big screen.. It was carefully cut under the supervision of UACC Registered Dealer #228 and mounted in an acid free case to protect this one of a kind wardrobe artifact.
(it can also be removed from the case if you like so you can see the front or the back of the costume) You get a copy of the original COA from Columbia Pictures. This costume was hand-made by Penny Rose and her costumers at Sony Pictures Studios in Culver City, CA..
This DISPLAY is just ready to hang on the wall of your Media room, Office or Museum! We are also including a Great ORIGINAL Autographed Photo that was signed in blue marker by the movie's star, TOBEY MAGUIRE, in this scene from his SPIDER-MAN Films.. You also receive one of the types of this VERY RARE piece of Spider WEB that was actually Screen-Used in the films.. This unusual 14" High x 11" Wide x 1 Thick Wide Frame has this original autographed picture mounted inside this modern custom designed new black Frame.
The costume artifact is encased in an acid free display attached to a very cool spider web background! Tobey signed in person in blue permanent marker... And, this autograph is guaranteed genuine for life by UACC Registered Dealer.
This is all beautifully displayed in this custom black frame, just ready to hang on your wall or table and includes this engraved mounted plaque that reads. This RARE COSTUME PIECE & WEB was acquired from COLUMBIA PICTURES and Piece of the Past & includes their 2 Certificates of Authenticity & a COA from world renowed Todd Mueller Autographs... This collection is also guaranteed for life by UACC Registered Dealer #228 & D.
These props are very hard to find in the marketplace and rarely ever made available to the public. You'll also receive 3 +1 sealed BLU RAY DVD Boxed SET of SPIDER-MAN, SPIDER-MAN 2 & SPIDER-MAN 3 so you can enjoy these sci-fi classics & see your prop costume piece!
You also receive this vintage 2002 MAGAZINE featuring SPIDER-MAN. This Original Prop Costume artifact & Tobey Maguire Autograph have all been stored in an acid free sleeve in a smoke free, pet free environment since being acquired. Buyers are responsible for any V. This is a great, rare ORIGINAL SCREEN-USED Spider-Man Costume Piece & PROP WEB, a beautiful Original Framed Autograph Signed by TOBEY MAGUIRE, 3 sealed BLU RAY SPIDER-MAN, SPIDER-MAN 2 & SPIDER-MAN 3 DVD Boxed SET in their original Sealed Boxed CASE & a Collectible Spider-man 2002 MAGAZINE.
Check out our other auctions for more Movie Collections that include wardrobe, props & autographs from a variety of TV & Movies. Sell is a Registered Dealer with the U.
We are proud that some of our memorabilia on display in the SMITHSONIAN, Washington, D. Heimdell51 Praise: Great guy; very prompt & efficient service & exc. Packaging; got a free bonus too! Austinpowheinybeer Praise: GREAT GREAT GREAT!!
Toothfella Thanks for the super helmet Jack! Hope to do business again. Jimsoden Praise: Great packing, good emails, very generous with his time and effort, class act!!! Circus10 Praise: Fabulous costume, vintage RBBB.
Belfast Praise: Wonderful Ebayer & with genuine COA's too! If this autograph is declared not to be authentic, we may ask the purchaser to supply the full written opinion of one competent authority acceptable to us.
Don't miss this Original TOBEY MAGUIRE Autographed Photo and a Great Genuine Piece of a SPIDER-MAN COSTUME & SPIDER WEB from Spider-Man! This entire collection comes with COA's that guarantee this collectible & autograph absolutely genuine... The cutting of the costume & prop spider web was actually supervised by D. Movie/TV Director & UACC Registered Dealer #228.
Of course, you get the (3)THREE Spider-Man, Spider-Man 2 & Spider-Man 3 in a Sealed 4 DISC BLU RAY DVD Boxed SET. A GREAT piece of MOTION PICTURE history.....
A real "One of a Kind" Find & Conversation Pieces for both the Tobey Maguire FAN and SPIDER-MAN MOVIE PROP COLLECTORS.... Movie & Television Props & Autographs can make for a good investment as well!
Imagine giving this great science fiction movie classic prop to the Movie & SPIDER-MAN Collector in your family or just keeping it for yourself for what should be a good investment! A GREAT MOTION PICTURE PROP & AUTOGRAPH Collection from the classic "SPIDER-MAN" films, starring TOBEY MAGUIRE & KIRSTEN DUNST. A VERY RARE & VALUABLE ONE OF A KIND COLLECTION!! You may never see another one like this ever offered to the public again! The item "SPIDER-MAN Prop CLOTH Costume & WEB, Signed TOBEY MAGUIRE, DVD, Frame, COA UACC" is in sale since Sunday, February 9, 2020. This item is in the category "Entertainment Memorabilia\Movie Memorabilia\Props\Originals". The seller is "jackmsell" and is located in New Port Richey, Florida. This item can be shipped worldwide.

---