Wow! BATMAN PROP Tombstone, DANNY DEVITO Signed, COA, UACC, DVD, Frame + Easel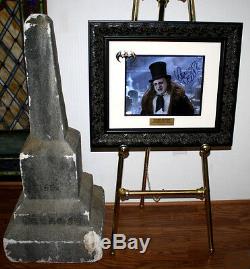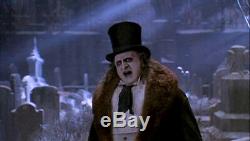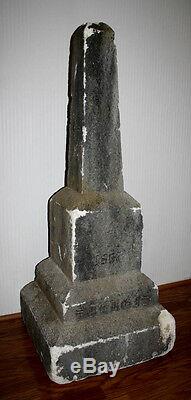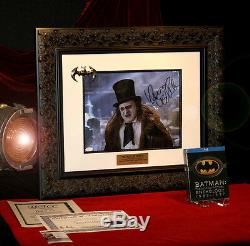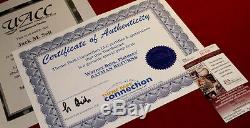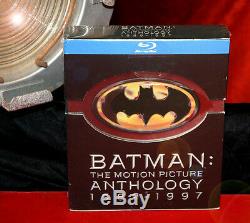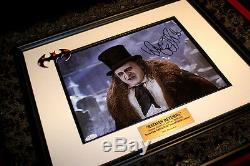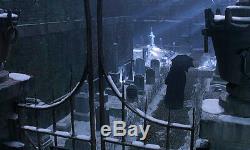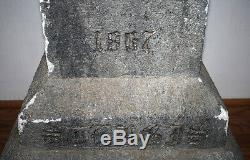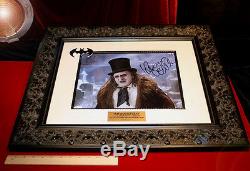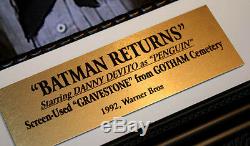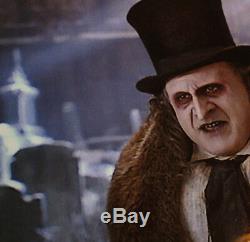 The Ultimate "BATMAN" Autograph & Prop COLLECTION! Large Signed AUTOGRAPH, PROP, FRAME & Easel with engraved PLAQUES + BLU RAY DVD Set. This particular BATMAN "Villain" collection includes. This RARE "BATMAN" Autograph is displayed in a large Black Frame with engraved Description PLAQUE & 3-D Batman LOGO. Factory Sealed BLU RAY DVD's of all 4 Motion Pictures "The BATMAN ANTHOLOGY". 2 Original CERTIFICATES of AUTHENTICITY for the Autograph & Prop (JAMES SPENCE AUTHENTICS & Theme Park Connection). As a TV & Movie DIRECTOR and a lifetime member of the Director's Guild of America, D.
Sell is offering some rare PROPS, AUTOGRAPHS & COSTUMES, ART & COLLECTIBLES from his personal collection from some great television & motion pictures, including "STAR WARS, " "RESIDENT EVIL, " APOLLO 13, " "STAR TREK, " "AMERICAN PIE, " "DIRTY DANCING, " "E. ", "AEON FLUX, " "WARM BODIES, " "CASINO ROYALE, " "bruno, " "GONE WITH THE WIND, " "CHRONICLES OF RIDDICK, " "HANNIBAL, " "BATMAN, " "WIZARD OF OZ, " "IT'S A WONDERFUL LIFE, " "SUPERMAN, "GHOST, " "HUNT FOR RED OCTOBER, " "NATIONAL TREASURE, " "SKYFALL, " "SPIDER-MAN, " "PIRATES of the CARIBBEAN" + dozens of other Films & Television shows, many destined to become Classics that will live on for millions of viewers for years to come. A Great Gift or Investment!
This Screen-Used Prop "TOMBSTONE" is used in the GOTHAM CEMETERY set when Penguin goes in looking for his Parent's burial spot... This PROP was used & handled by actors & crew on the set and some nicks & chips, but is still in overall good condition.. The original Autographed 11" X 14" Color Photo is signed in Black Ink by DANNY DeVITO as "PENGUIN". It's large size and the fact that the photo is from the Gotham Cemetary scene makes this VERY RARE! The black Gothic FRAME includes this engraved description PLAQUE..
Also mounted to the display is this gold 3-D chrome Batman LOGO attached to the glass.. The Rare AUTOGRAPH is protected inside an acid free FRAME with UV Acrylite unbreakable GLASS! The large Framed Autograph measures approximately 26" Wide x 22" High. We also include a Brass EASEL that holds the large framed Autograph for easy display..
This easel is vintage, but in overall good condition and measures approximately 60" tall x 22" wide.. This large oversized genuine Autographed PHOTO is accompanied by an Original COA (Certificate of Authenticity) from world renowned Autograph Dealer James Spence Authentication.. The Screen-Used PROP is accompanied by an Original COA (Certificate of Authenticity) from world renowned Dealer JAMES SPENCE AUTHENTICATION, Theme Park Connection and this entire RARE collection is guaranteed genuine for life by UACC Registered Dealer #228...
This Screen-Used Prop TOMBSTONE looks like "stone" on camera.. Some parts of the prop have been chipped or aged and has these numbers and words inscribed on the front of the Tombstone.. These scenes were filmed in 50% of the Stages at Warner Bros! (Stages 3, 11, 15, 16, 18, 21, 22, 25). Tim Burton directed this 2nd Film in the "Batman" series with Michael Keaton in 1992... This entire "GOTHAM CEMETERY" set was built on one of these sound stages...
Here you see Danny Devito as "Penguin" strolling to his parent's gravesite. This Screen-Used Prop can be displayed on the floor with the Original Autographed Photo & engraved Description Plaque in an OVERSIZED Black modern wood & acrylite non breakable glass FRAME on a Brass EASEL.. This original Framed AUTOGRAPH & PROP comes ready to display in your Home, Museum or Media room or give as a gift to the BATMAN fan in your life!
Finally, w e also include this brand new factory sealed BLU RAY "BATMAN ANTHOLOGY" that includes all 4 movies.. You can get these 4 movies on regular NTSC (region one) DVD's so you can see your PROP & favorite STARS! The Ultimate Rare BATMAN Collection! Having defeated the Joker, Batman now faces the Penguin - a warped and deformed individual who is intent on being accepted into Gotham society. Crooked businessman Max Schreck is coerced into helping him become Mayor of Gotham and they both attempt to expose Batman in a different light.
Earlier however, Selina Kyle, Max's secretary, is thrown from the top of a building and is transformed into Catwoman - a mysterious figure who has the same personality disorder as Batman. Batman must attempt to clear his name, all the time deciding just what must be done with the Catwoman. RARE original "Batman" PROP Tombstone + original AUTOGRAPHED PHOTO signed by DANNY DeVITO and have all been stored in acid free, pet free cases in a smoke free environment since being acquired.
Our Photos are included as part of our ad description. Check out our other auctions for more TV & Movie Collections that include Props, Wardrobe & Autographs.
Sell is a Registered Dealer with the U. We are also honored to have some of our props on display in the SMITHSONIAN, Washington, D. Btbandabbermake3s PRAISE: Fantastic items, 30 Star Movie Maker! Heimdell51 "PRAISE: "Great guy; very prompt & efficient service & exc. Packaging; got a free bonus too!
Docfsk100 PRAISE: "Excellent, Danke" austinpowheinybeer PRAISE: GREAT GREAT GREAT!! Toothfella PRAISE: Thanks for the super helmet Jack! Hope to do business again.
Jimsoden PRAISE: Great packing, good emails, very generous with his time and effort, class act!!! Circus10 PRAISE: Fabulous costume, vintage RBBB. Belfast PRAISE: Wonderful Ebayer & with genuine COA's too! It is the most professional-quality work I've ever seen, absolutely worth every penny. I can't thank you enough for helping me to realize my dream of being able to hold in my hand something that was actually a part of this movie.
I even cried a little when I touched the prop for the first time. Thank you from the bottom of my heart. I hope to do business with you again some day! AND, peggie701 wrote us this nice letter. JACK, GOT YOUR PACKAGE TODAY!
I WAS VERY IMPRESSED AT THE WAY YOU PUT ALL THE PROPS TOGETHER. I PUT YOU IN ONE OF MY FAVORITES!
AND, THANKS TO THE OTHER 9000 GREAT EBAYERS WE'VE HAD THE HONOR OF WORKING WITH FOR OVER 15 YEARS.... WE LOOK FORWARD TO MEETING MANY MORE GREAT EBAYERS IN THE FUTURE FROM ALL OVER THE WORLD! If this autograph is declared not to be authentic, we may ask the purchaser to supply the full written opinion of one competent authority acceptable to us. GOOD LUCK on this Great BATMAN VILLAIN Collection that includes an original COLOR Autographed Picture signed by star DANNY DIVITO as "PENGUIN" with engraved brass Description PLAQUE & 3D Frame & EASEL, a large Gotham Cemetery prop TOMBSTONE where Penguin visits his parents + a Sealed BLU-RAY DVD "Anthology" SET of all 4 Movies... Of course, you receive 2 Certificates of Authenticity from JAMES SPENCE AUTHENTICS & Theme Park Connection that guarantees this screen-used Prop & Autograph genuine for life.. A UNIQUE One of a Kind "BATMAN" DISPLAY! A GREAT piece of Rare MOTION PICTURE history.... A real "One of a Kind" Find & Conversation Pieces.... Movie & Television Props & Autographs can make for a good investment as well!
Imagine giving this great BATMAN movie collection to the Fan in your family or just keeping it for yourself for what should be a good investment! VERY RARE & VALUABLE ONE OF A KIND PROP & AUTOGRAPH COLLECTION!!
This would look great displayed in your Media Room, Office or Museum! Check out our OTHER Auctions for more great "BATMAN" Props & Autographs! BATMAN PROP Tombstone, DANNY DEVITO Signed, COA, UACC, DVD, Frame + Easel" is in sale since Friday, April 12, 2019. This item is in the category "Entertainment Memorabilia\Movie Memorabilia\Props\Originals".
The seller is "jackmsell" and is located in New Port Richey, Florida. This item can be shipped to United States.
Country/Region of Manufacture: United States

---